The study is aimed at investigating the antimicrobial and coagulation performance of Chrysophyllumalbidum (Udara) seed in water purification and its optimality using Game theory. The study concluded that Game theory approach is a better cost minimization model than the Simplex method for obtaining the optimal cost of water treatment in Anambra State. Despite this progress, isolation and purification of coagulant proteins from Chrysophyllum albidum (udara) seed, determination of the best solvent for the extraction of active compounds are recommended for Water and Wastewater Treatments. In contribution to knowledge, the study indicates that at optimum conditions ethanol extracts of Udara (Chrysophyllum albidum) seeds would improve surface water quality for domestic uses, thereby making it a suitable natural sciences applications coagulant for household water purification.
Professor Luke Eme was born into a family of six children in the South Eastern region of Nigeria-West Africa, 3 boys and 3 girls. He is the first child of his parents. These parents of his were both teachers, and his mother retired as a Head mistress of her school. He is the first son or child of the family, every instruction given by the parents is handed over to him to lead his other brothers and sisters. As the first child, he was drilled on all aspects of life. These drills started with early morning and night prayers including sweeping of house, cooking, washing, farming and gardening activities etc. His father was a primary six school teacher and taught him in primary six. He was always taking first position both in his and other teachers' classes. His father always draw timetable for his studies and domestic activities including watering irrigation, farming of lettuce, rice, cucumber, millets etc, and his task always was to take oranges and tangerines to the orchard for budding and grafting of citrus during the weekends and long holidays. He studied at Farm Settlement Primary School, where modern agricultural practices were enforced, at Igbariam Farm Settlement, South East region, Nigeria.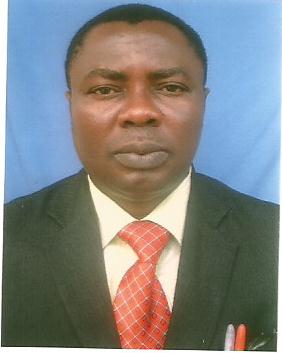 Consequently, the above background brought about his being an actively minded individual with a strong religious practices and belief in the God Almighty. These led him to a disciplinary life style. The theories that guide his life style had been the "Holy Bible" such as Luke chapter 12 verses 22 – 24 and 29 – 31. And then at the point of entry into secondary school, his father took him to Comprehensive Secondary School, Nawfia, (a technical school) where all trades and sciences are taught and he passed the entrance examinations and was admitted as a student. He was told by his father that he was found to be a special individual such that he wanted to explore the God's given talents in him because of the level of his disciplinary lifestyles that have been raising surprises in the home. The father always asked him "do you want to be ordained a Priest" in which he was always answered him "No Sir Daddy". The following subjects/courses were taught at the said secondary school and he took the courses during the West Africa Examination Council (WAEC) after completion of training at the school in 1985: Woodwork, Metalwork Carpentry, Mechanical Engineering/Building Drawing/Technical Drawing, Fine and Applied Arts, Block/Bricklaying, Mathematics, Physics, English Language, History, Religious Knowledge, Commerce, Economics, Short hand, Accounting, Literature etc. He lived in the school boarding House/Dormitory and was elected Treasurer of Young Catholic Students with great trust to keep the organizations fund as a student. During the annual Inter – House Athletic competition, he had awards for gaining first position in 5000 and 1,500 meters marathon races both in 1985 at the school. At the zonal Athletic competition, he also had an award for gaining first position in 5500 meters marathon race in the same 1985 at Njikoka zone, Anambra State, South East region, Nigeria. The said first positions were possible due to the said drills and disciplinary life style from childhood, which is an inheritance from his parents as a Grace from the Almighty God.
In view of the above, after successful WAEC examinations, his parents asked him to make a choice, he chose to study at Institute of Management and Technology, a course titled "Building Technology" at Ordinary National Diploma (OND) and Higher National Diploma (HND) levels and graduated as the best Student in 1991 with Upper Credit. He was a Charismatic student at the institution and up till date. Thereafter, he did his National Youth Service Corps (NYSC) at Lokoja, in Kogi State where he was posted to and served from1991 to1992. Thereafter, in an interview of twenty applicants conducted by Pet Adeson and Company Ltd at Lagos, he was the only candidate chosen by the company for the post a General Site Foreman. Thereafter, he was also chosen after an interview in 1992 by Vivid Construction Company Ltd as a Project Engineer for 3years and he resigned on 1St August 1995 and opened a construction and consultancy company, Leeworks International Limited, as the Principal Constant. Thereafter, he was appointed in 1996 by the Onitsha Catholic Archdiocese as a Resident Engineer to supervise Pedro chi and Company Limited, an Italian company in Nigeria, also was engaged on the job of construction of a Church Building Complex worth of ₦600million from 1996 to 2007. So from 1996 when the project started to 2007 when it was completed, he acquired five different degrees in addition to the earlier OND and HND in Building Technology including: Bachelor of Science (B.Sc) degree in Building, Postgraduate Diploma in Education (PGDE) in Statistics/Mathematics, Postgraduate Diploma (PGD) in Civil Engineering, Master of Engineering (M.Eng) degree in Civil Engineering (Water Resources Engineering), and Doctor of Philosophy (Ph.D) degree in Civil Engineering (Water Resources Engineering) with distinctions. These were possible due to his time management skills, emotional, physical, and moral stability, disciplinary lifestyle and ability to study independently. The Almighty God had been his strength and supervisor whom he fears so much, as he keeps his commandments and He endured him with His Grace.
From the foregoing, his Mentor was late Professor Ojiako G.U who in 2006 made a request for Luke to join him at Anambra State University as a Lecturer. That Luke had been gifted in teaching and learning as he was revealed as his supervisor for years. That he had also been revealed that Luke is gifted to monitor this generation and generations to come, because of his disciplinary dispositions which had been prominent in his life style and study. That he is gifted, talented and charmed in terms of: intellectual capacity, research and creative ability, analytical thinking, work ethics, organizing and expression of ideas, and a drive or motivation for surprises in any assignment given to him.Thereafter, Luke was subsequently revealed all in line with his request and he joined as Assistant Lecturer on 28th February 2006. These skills including presentation/communication of ideas are the characteristics that led to his outstanding Ph.D research work and being the recipient of an international award as the world best poster Presenter in 2012 from the President, Glen Diagger of International Water Association London, out of a total of 387 presenters in a competition held during their World Water Congress & Exhibition, at Bussan, Korea from 16th to 21st September 2012. At the said Anambra State University, Luke joined in 2006 in research, teaching and supervision of students, rose to the rank of a full Professor on 1st October 2019. He had been supervising both undergraduate and postgraduate students till date. In recognition of his research skills from 2012 to 2022 on "Renewable Energy Field" as the most prominent Researcher, the Global Energy Association awarded to him an honorary diploma, during the Russian Energy Week forum on 13th October 2022, at Moscow, Russia for my outstanding contribution to the development of energy in the region. See details: https://youtu.be/GbaBPc7FLb4, and http://video.roscongress.org/arc/rew/2022/20221013/20221013_1330_PLENAR_PGM_id_14927.mov
He was appointed Head, Department of Civil Engineering in 2008/2009, 2018/2019 and 2019/2020 academic sessions. In 2020/2021, 2021/2022 and 2022/2023 academic sessions, he was also appointed the Dean, Faculty of Engineering of the said University, now Chukwuemeka Odumegwu Ojukwu University. As the Dean of Faculty of Engineering, his teaching profession is such that he accepted as a call or vocation from God to mentor this generation and generations to come under the supervision of the God Almighty, whose Grace is with him in abundance in accordance with the "Holy Bible" Luke chapter 12 verses 22 – 24, 29 – 31, and Galatians chapter 5 verves 16 -18, 22 -26. He so much believe in reality and that is the good news he professes as a teacher both in and out of class room. His slogan is always "you give what you have and you cannot give what you do not have". Based on his family background as a son of teachers, technical training, university education, life and working experiences, he discovered that the only thing that gives him joy is to teach someone using his life story described above as a case study for mentorship. As he carries out this mentorship work, he always give testimonies that the God Almighty is his superior and supervisor such that his mentorship work is a call or vocation from God. Therefore, he believes in and carries out these skills such that it is the work of God who sent him "Opus Dei". His teaching interests and philosophies revolve around a preacher and his audience. He professes that the larger the audience in diversity, equity and inclusion, the better for him as a preacher of good news. He exhibits discipline, humility, gentility, self expression, communication/dramatization of ideas, preparatory notes, meditations, prayers, studies, researches, painstakingness etc before appearing to his audience to deliver the lessons already planned.
In conclusion, Professor Luke Eme's teaching interests, philosophies and lifestyles were inherited from God and his parents who were both teachers of the highest reputation. His teaching experiences were also drawn from his mentors, such as: late Professor Ojiako G.U., who had his B.Sc, M.Eng, Ph.D in Water Resources Engineering from University of New Castle and was honoured with an international award from India for his outstanding research works and late Professor Anyata B. U. of Cornell University and his many other teachers who were his mentors.
Global Energy Association
The honorary diploma awarding ceremony by the Global Energy Association, during the global energy week forum at Moscow Russia on 13th October, 2023.