LAP interview with Sabina Kaštelančić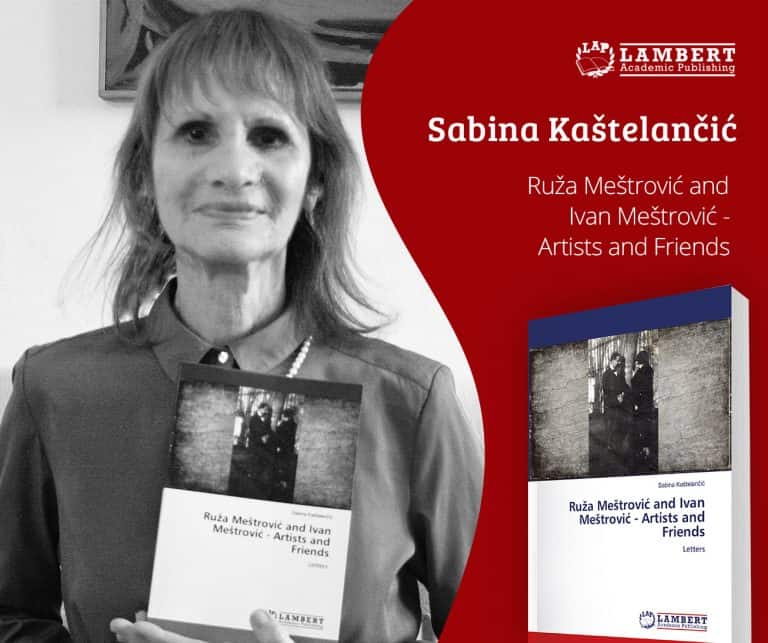 We are excited and honored to share with you our interview with Croatia based writer Sabina Kaštelančić. Encouraged by her family, Sabina Kaštelančić wrote a book about Ruža Meštrović – a sculptress, paintress, and decorative artist, based on the letters between Ivan Meštrović and Ruža Meštrović.
1. First of all, we wish to thank you for taking your time for this interview. What encouraged you to author this revealing publication. "Ruža Meštrović and Ivan Meštrović – Artists and Friends"?
I must say I have been fortunate to find so much encouragement in the past twelve months, which is the exact time it took for the adventure of this book to be realized. It all began at the international conference "Manifestations of Modern Sculpture in Croatia: Sculpture on the Crossroads between Socio-political Pragmatism, Economic Possibilities, and Aesthetical Contemplation" in Split, Croatia, on 4 and 5 October 2018, for which my paper on Ruža Meštrović and Ivan Meštrović had been accepted. A short time after this exciting conference, my editor, Ms. Zinaida Belibov, approached me with the beautiful proposition of publishing with Lambert Academic Publishing. My manuscript of 40 pages was scrutinized by LAP and was accepted. Apart from the LAP editors, I have been warmly supported by family, friends, and art historians I have been working with as a translator. So, I was writing parallel – finishing the original Croatian version of this publication and translating and adapting this English version.
2. Tell us more about you. Where are you from, and why you decided to publish a book?
I am from Croatia and am an English and German language and literature teacher with decades of experience as a translator, working mostly for Croatian galleries, museums, and theaters. I come from a family of artists, my father, Ante Kaštelančić, was a painter and artist pedagogue, my grandfather, Florian Josephu Drouot, a sculptor and my grandaunt Ruža Meštrović, a sculptress, paintress, and decorative artist. Encouraged by my family, I wanted to publish a book concerning her artwork, based on the letters between Ivan Meštrović and our grandaunt, which would then provide a solid basis for a possible documentary. This turned out to be an almost unbelievable opportunity to do so on such a large scale with Lambert Academic Publishing.
3. What is the feedback on your publication so far?
Maybe it is a bit too early to tell! Not even a month since the publication date.
4. What authors do you like to read? What book or books have had a strong influence on you or your writing?
I have many favorites, to name a few, Aldous Huxley, Max Frisch, Allen Ginsberg, Ranko Marinković, Pavao Pavličić… Croatian art historians, specialists for Ivan Meštrović's art, so to speak, greatly influenced my writing: Ljiljana Čerina, Duško Kečkemet, Irena Kraševac, Lana Majdančić, Dalibor Prančević, Maja Šeparović Palada, Barbara Vujanović, and historian Norka Machiedo Mladinić with their most recent publications on his art and life.
5. It is part of our business concept to look for new authors actively. What was your first reaction when you received our proposal to publish your academic work with us?
As I already pointed out, I was very honored and happy to be given such a huge chance, I really could not have imagined before. It was a challenge that meant a lot both for my family and me.
6. What was your experience with our team?
I have been supported continuously and felt it as being a very personal approach. I have two most beautiful editors, Ms. Zinaida Belibov and Ms. Parascovia Petrachi, who are performing a great job. I have always been advised the best possible way.
7. Are you planning another book publication? And if so, on which topic and can you imagine cooperating with us in the future again?
It would be fascinating cooperating with LAP again, maybe with another book on art – painting, and sculpture. Let's keep our fingers crossed!
8. Any last thoughts for our readers?
To say that the feeling you have accomplished a little part of your mission is exceptional, and I strongly encourage everyone to believe in making their missions and plans to publish come true.