Información sobre el libro:
En este libro investigamos los nexos coincidentes en la técnica, estilo, ejecución y aspectos estéticos de las escuelas de danza danesa y americana y la posible evolución que Balanchine realiza a partir del trabajo previo realizado por Bournonville. Desde una visión cualitativa no interactiva, profundizamos en las escuelas mencionadas para desglosar sus similitudes. Pedagógicamente asumimos la necesidad de capacitar y dotar a los alumnos con diferentes cualidades, desde diversos enfoques dancísticos, ya que, en la actualidad, se precisa disponer de una educación amplia y divergente para enfrentarse al contexto dancístico profesional. Esbozamos como propuesta un taller educativo con tres unidades didácticas desarrolladas al objetivo de incidir en la versatilidad interpretativa de ambas escuelas.
Ángel Juárez López es natural de Águilas (Murcia), Inició sus estudios de danza clásica en la Escuela de Danza Goyi Vera. Más tarde, (2003-2010) accede al Conservatorio Profesional de Danza de Murcia donde se forma principalmente con Elvira Santamaria y Jose Antonio Robles en la especialidad de danza clásica y tras su graduación en 2010, es aceptado en The School of American Ballet, New York, para realizar un curso de verano y posteriormente becado para formar parte del nivel avanzado de la escuela para el curso 2010-2011. Actualmente es graduado por el CSDA en la especialidad de pedagogía de la danza clásica.
Durante su formación ha trabajado con grandes maestros y estrellas de la danza a nivel mundial entre los que destacan Carmina Ocaña, Pablo Saboye, Jose Carlos Martinez, Juanjo Arques, Cynthia Harvey, Julio Bocca, José M. Carreño, Sean Lavery, Jock Soto, Albert Evans, Peter Boal, Frank Andersen, Nikolaj Hübbe, Peter Martins, Thordal Christensen, Collen Neary, Adam Luders,Yuri Possokhov, Derek Deane, Wilhem Burmann, entre otros, de los cuales ha aprendido los diferentes estilos y bases metodológicas de las escuelas danesa, americana y rusa. Antonia Andreu -técnica Cunningham, Ramón Oller – técnica Limón, Avatara Ayuso -técnica Graham, Alvin Ailey School -Técnica A. Ailey.
También participó como autor del capítulo del libro: Psicopedagogía de la Vulnerabilidad Dancística, ISBN: 978-620-2-24739-9 (editado con EAE).
Su experiencia profesional como bailarín solista incluye las siguientes compañías de danza y repertorio:
(2011-2012) Soloist at Los Angeles Ballet: "The Nutcracker'' Thordal Christensen and Collen Neary after Petipa. Dolls, Russian Dance, Harlequin and Columbine Dance. (2011).
(2012-2014) Soloist at Tivoli Ballet Theatre, Copenhagen. "The nutcracker" Peter Bo Bendixen and Queen Margaret II of Denmark. : Fritz, snowflakes, soldier, russian dance, flower waltz.
(2012). Bolero of ravel, Seasons, Marie Brolin
(2012/2013) A time there was…, Michael Corder.
(2012) Various acting pantomimes
(2012/2014) Warm up #19, Stacey Denham.
(2013) The tinderbox, Dinna Bjorn.
(2012) The brave tin soldier, Dinna Bjorn and Queen Margaret II of Denmark
(2013-14) La Sylphide, adaptation by Peter Bo Bendixen.
(2014) Kermesse i Brugge pas de deux, Bournonville
(2014) Napoli, Bournonville
(2013-2014) Soloist at Croatian national ballet company, Zagreb: The Nutcracker, Derek : Toy Soldier, Franz, Nutcracker doll, Arabian dance, Russian dance
(2015-2016) Soloist with the Moscow Ballet for the nutcracker: Franz, toy soldier, mouse king, french variation, russian dance, spanish dance, arabian dance
(2019) Soloist at Tivoli Ballet Theatre, Copenhagen: The Snow Yuri Possokhov and Queen Margaret II of Denmark.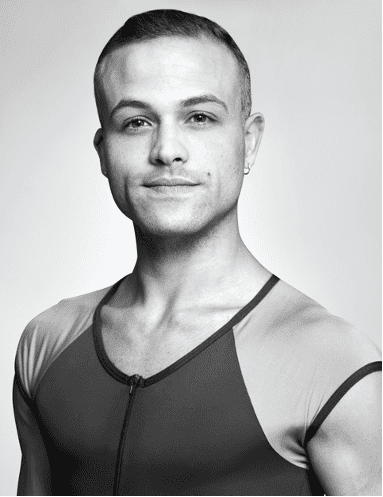 Entre sus premios destacan:
II Edición "Jóvenes promesas de la danza", Bilbao 2007. 2º premio.
Hispamusic "VeoVeo" Murcia 2007: 1º
VIII edición de danza ciudad de Zaragoza 2008: 2º premio y premio del público.
I edition tiempo de danza, Murcia 2009: 1º premio.
I edition international of dance, Almería 2009: 3º
X Torrelavega Nacional Competition 1º premio.
I competición de danza ciudad de Barcelona 2010: 1º premio.
Proyectos artísticos:
Pajarraco Dance parte como iniciativa artística enfocada a la difusión de proyectos audiovisuales dancísticos, humanísticos y pedagógicos a través de los cuales se pretende investigar el movimiento, tanto en una versión humanística, artística o desarrollada, pudiendo partir de diferentes elementos propuestos.