An interview with Dr. Simon Tseytlin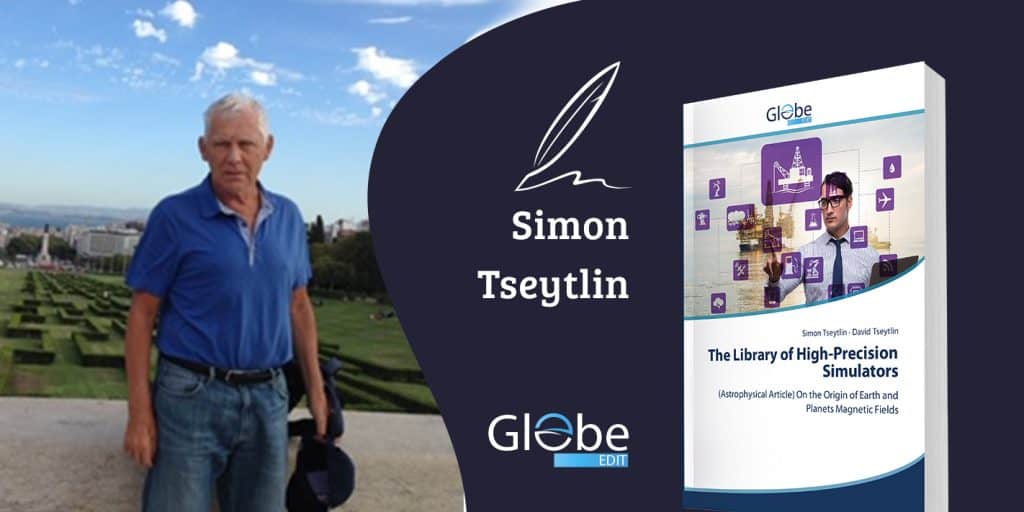 EARLY THIS AUTUMN AT GLOBE EDIT WE HAD A CHANCE TO WORK WITH DR. SIMON TSEYTLIN AND PUBLISH THREE OF HIS BOOKS. ALL ARE ON DR. SIMON TSEYTLIN'S EXPERTISE – HIGHLY EFFECTIVE TECHNOLOGIES FOR OFFSHORE AND ONSHORE DRILLING, PRODUCTION, AND SAFETY. WE HAVE ALWAYS BEEN KEEN TO KNOW MORE ABOUT OUR AUTHORS, THEIR LIFE, AND WHAT MADE THEM CHOOSE US AS THEIR PUBLISHER OF CHOICE. WE INVITED DR. SIMON TSEYTLIN ON AN INTERVIEW, AND WE ARE HAPPY TO SHARE IT WITH YOU.
CAN YOU PLEASE TELL OUR READERS A LITTLE BIT ABOUT YOURSELF?
I am Dr. Simon Tseytlin graduated from the Moscow Institute of Physics Engineering with an M.S. degree in Physics. I began my career in the Russian Research Institute of Space Industry as a Scientific Research Associate in the laboratory of nuclear and plasma engines.
At the same time, I graduated from Moscow State University with an M.S. degree in Mathematics. Three years later, I completed a First Dissertation based on my research work and achieved a Ph.D. degree in Physics. In 1992 I completed my second Dissertation for Doctor of Science in Petroleum Engineering entitled "Methods of Early Detection of Gas Kicks and Thermo-hydrodynamic Calculations of Geophysical and Geo-technological Research of Wells."
During my career, I developed several novel methods and technologies in geophysics, drilling, and production research of oil and gas wells. As a result, I have published more than 100 scientifically articles, created more than 30 patents, participated in more than 50 internecinal scientifically conferences.
WHAT ARE YOU WORKING ON RIGHT NOW?
Now I continue to develop and implement a few of my discoveries because the topics are essential for the Oil & Gas Industry and Science. I have deep experience and expertise in the creation of new technologies and software connecting with the solution of problems within the Oil and Gas industry. I created and patented several technologies related to Offshore Drilling and Enhance Oil Production. I believe some of my methods and technologies in the area of offshore drilling can make it safer, more affordable, and also prevent damage to the ecological environment and loss of human lives. It is a very relevant topic at this time – consider the recent offshore well explosions in the Mexican Gulf and the new drilling in the Arctic offshore fields. I have solved a few other problems, including technology TOP for Optimization of Oil Production (see www.tseytlin-consulting.com ).
The proposed innovative technology for Oil Production Optimization & Enhanced Oil Recovery (further in the text referred to as Technology for Optimization of Production (TOP), is primarily applied for optimization of oil production from reservoirs containing oil with high Gas to Oil Ratio (GOR>600 cft/bbl). It is used when bottom hole pressure is below bubble point pressure (Pbottom < Pbubble pt) and / or in case when a gas cone appears. TOP can be applied to all methods of oil production, gas lift, and pump production. This technology is based on the solution of a very precise mathematical model of the system reservoir-well that accounts for all of its components. This permits the realization of a comprehensive analysis of processes that occur in the borehole, near-borehole zone, and in the formation. This, in turn, allows maximizing not only the current oil production rate but also an enhancement of oil recovery by maintaining the current bottom hole pressure at the optimal level.
AS AN EXPERT IN THE OIL INDUSTRY, CAN YOU TELL HOW THE OIL INDUSTRY HAS CHANGED IN THE LAST DECADE? WHAT DO YOU BELIEVE IS ESSENTIAL FOR OUR SOCIETY TO KNOW?
I think Offshore Drilling will increase; also, the depth of wells will increase because drilling maintains an essential role in supporting life on the earth. It is the main reason why I have a solid education, begun, and continue to work on this topic. I want to note – I have a terrible relation to unconventional reservoirs and Hydro Fracture of Formation because it has high costs, damage our environment, and destroy nature!
TOGETHER WITH GLOBE EDIT, YOU HAVE PUBLISHED THREE BOOKS. WHAT MOTIVATED YOU TO CHOOSE GLOBE EDIT PUBLISHING? HOW DID YOU DECIDE TO WRITE AND EVENTUALLY PUBLISH NOT ONLY ONE, BUT THREE BOOKS WITH US?
I choose Globe Edit publishing because I am looking for a possibility to find investors or companies, who can help me continue to develop my new technologies and software for the Oil and Gas Industry. I hope someone will want to engage in this project after reading my books. My proposal is exciting and profitable.
WHAT IS YOUR ADVICE FOR NEW AUTHORS WHO ARE LOOKING FOR A PUBLISHER?
I advise all scientists to use possibility and publish their innovative ideas with Globe Edit Publisher.
All three books are available at morebooks.de
Methods and Devices for Prevention of Well Explosion
New Technology of Optimization of Production of Liquid Hydrocarbons